WSCC scholar acknowledged with Chancellor's Commendation | Schooling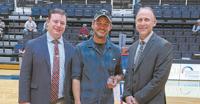 Walters State Student Cody McFarland was recently honored with the Chancellor Recommendation for Military Veterans. From left are Jason Wilder, Walters State Veterans Coordinator; McFarland, U.S. Army veteran and Dr. Tony Miksa, college president.

Special about the citizens' tribune


A Walters State Community College student received the Chancellor's Commendation for Military Veterans.
Cody McFarland, an electromechanical major from Talbott, received the award during Veteran's Night at the Lady Senator and Senator basketball games on November 10th. McFarland served six years in the United State Army, including two deployments in Afghanistan.
"Tonight we thank all the veterans in our ward," said Dr. Tony Miksa, President of Walters State. "We are particularly proud of our student veterans. Cody is a great example. He's coping with a very difficult academic program with a full-time job and family responsibilities. "
The award is a special challenge coin. Challenge Coins are a rich tradition in all branches of the military and signify special achievement, excellence, hard work, pride and respect.
McFarland served as a combat engineer and decided to graduate from college to improve himself and the opportunities he had. McFarland, a native of Morristowner, was familiar with college and found classes convenient. He works evening at Oshkosh Manufacturing and credits his wife Ashley for helping him manage his time. The couple have two children, Hank and Renly.
"Don't worry," McFarland advises veterans considering college.
"I wasn't in the classroom for seven years when I first attended college. I was nervous. I would tell other veterans to go ahead and take the chance. "
For information about using Walters State veterans education services, contact Jason Wilder, Veterans Service Coordinator, at 423-585-6896 or Jason.Wilder@ws.edu.