Minnie Liddell's dream of schooling for Black youngsters in St. Louis nonetheless elusive after 50 years | Schooling
MEHLVILLE — Every school day since first grade, Heavenly Larry has awakened at 5:30 a.m. to travel from her home in St. Louis to the suburbs of St. Louis County, a journey her mother Yana Larry and more than 75,000 other Black children have made over decades to seek a better education.
"In the beginning you can feel like a bit of an outcast," said Heavenly, a senior at Mehlville High School. "In turn, you're getting a great education. You're building great relationships. I've had a lot of opportunities thanks to this school district."
Fifty years ago, a St. Louis mother launched the fight that would lead to a landmark school desegregation agreement, the largest and longest-running voluntary busing program in the country.
Minnie Liddell didn't want her children bused to overcrowded, run-down schools in north St. Louis that were inferior to majority white schools. On Feb. 18, 1972, she and several other families sued the St. Louis School Board in federal court on behalf of her son, 12-year-old lead plaintiff Craton Liddell. 
People are also reading…
A settlement agreement in 1983 called for the voluntary transfer of thousands of Black students from the city to the county, the creation of magnet schools within St. Louis Public Schools to attract white students from the county, and state funding to improve the neighborhood schools in the city.
"The remedy was never integration; the remedy was desegregation, to undo the wrongs that had been done," said Bruce La Pierre, the Washington University law professor who mediated the settlement. "That's where it gets disappointing."
Then and now 
At its peak in 1998-1999, the desegregation program facilitated the transfer of about 13,000 Black students from the city to the county and 1,400 white students from the county to city magnet schools that year. Eight out of 16 participating school districts in St. Louis County met the program's original goal of a student population that was 25% Black.
Over the years, the state repeatedly fought its obligation to fund the court-ordered program, including a push in 1993 by then-Attorney General Jay Nixon to end it. A follow-up agreement in 1999 removed the program from court supervision and started the gradual decline in enrollment. Federal court rulings say racial desegregation programs cannot last indefinitely; the last students in this program will be accepted in fall of 2023.
This year, 3,110 Black city students attend county schools, 85 white county students attend city schools, and none of the 11 county districts remaining in the program meet the 25% goal for Black enrollment.
Some diversity has been gained through a rise in Asian and Hispanic residents. Two mid-county school districts — Pattonville and Ritenour — dropped out of the transfer program because their neighborhoods were diversifying naturally, with no racial majority among students today. More than one-third of Ritenour's students identify as Asian, Hispanic or multiracial. The district's International Welcome Center opened in 2016 and has grown from 10 to 88 students, mostly from Central America.
Third graders Sa'Rayah Stegall, Karriana Shotwell, Adrian Cardona Gonzalez and Milo Marsala, work through fraction flash cards on Wednesday, Feb. 16, 2022, as a group in Alexis Jamerison's classroom at Marion Elementary School in the Ritenour School District. The Ritenour and Pattonville school districts dropped out of the region's voluntary transfer program because their neighborhoods were diversifying naturally, with no racial majority among students today. Photo by Christian Gooden, cgooden@post-dispatch.com


Christian Gooden


But most school districts in St. Louis city and county are just as segregated for Black and white students compared to 50 years ago. Consider:
• In 1972, no school districts in St. Louis County had more than 90% Black students. Now, three districts (Normandy, Riverview Gardens and Jennings) along with 39 public and 10 charter schools in St. Louis hit that mark.
• Nearly three-fourths of St. Louis County's 45,000 Black students are concentrated in six districts that are more than 80% Black.
• On average, two out of five Black students in the 11 participating county school districts commute from the city. In Rockwood School District, 71% of its Black students live in the city.
•  In North County, the Hazelwood and Ferguson-Florissant school district populations flipped from majority white to majority Black.
"It's not surprising that in the long run, not enough has been accomplished," La Pierre said. "The evils of racial discrimination are much more than just schooling — job opportunities, housing, medical care. Schools could not carry the burden of solving all those racial problems and disparities."
Mehlville, in south St. Louis County, has the lowest percentage of Black students (7%) of any district participating in the transfer program but has increased its number of Black residents over the decades. In 1968, just one of the district's 10,144 students was Black. This year, 719 Black students attend district schools, and 180 of them come from St. Louis. Mehlville's white population also has become more diverse with an influx of immigrants from Bosnia and other eastern European countries.
'Worth it'
Regina Boyd was bused from St. Louis to Rockwood schools as a child but chose to return home to graduate from Sumner High School. When it came time for her own children, she pushed them to stay in Mehlville schools, including a daughter who is graduating from Spelman College in May.
"I just wanted better than what I had," Boyd said. "My daughter, once she graduated, she told me she hated it but she understood why I had done it."
Boyd's son Devon Scott is in 10th grade at Mehlville High. He leaves home early and often doesn't get home until 6:30 or 7 p.m. from football, wrestling or baseball practices and games. He said the sacrifice is worth it.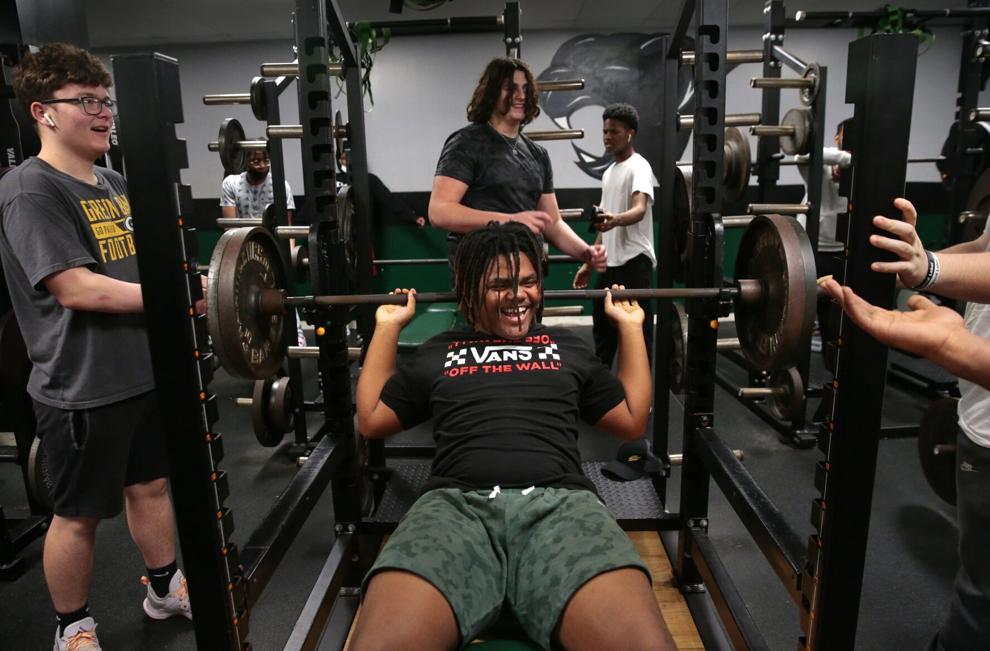 Mehlville High's Devon Scott, 15, bench presses a personal best while working out with the football team on Tuesday, Feb. 15, 2022. Devon, his twin brother Keshon and older brother Gabe, have been part of the voluntary transfer program since elementary school. Photo by Robert Cohen, rcohen@post-dispatch.com


Robert Cohen


"I love this school," Devon said. "All my friends are amazing. The teachers really care about you."
The family may live in Walnut Park, but South County is where they found community, Boyd said.  
"Sometimes when you step off that school bus you have to understand that the odds may be against you," Boyd tells her children. "As far as parents and students, we've been nothing but welcomed. I love it. I would do it all again."
Mehlville High sophomore Keshon Scott, 15, left, joins a sleeping C.J. Lee, 15, as they ride a voluntary transfer school bus at sunrise from Keshon's Walnut Park home to their South County school on Wednesday, Feb. 16, 2022. Keshon, his twin Devon, and older brother Gabe have ridden the early bus since elementary school. Photo by Robert Cohen, rcohen@post-dispatch.com


Robert Cohen


The transfer program boasts many successful graduates, including St. Louis Mayor Tishaura O. Jones; Darrion Cockrell, the 2021 Missouri Teacher of the Year; Abdul Kaba-Abdullah, executive director of Park Central Development; and Sharonica Hardin-Bartley, superintendent of University City School District.
Hardin-Bartley said she owes her success to her relationships with educators in parochial and public schools in the city as well as Rockwood, where she graduated.
"I don't want to paint the picture that West County systems were necessarily better," she said. "The common denominator was amazing people. Every kid needs a champion, and I think that's no matter what school system they're in."
Research on the outcomes for Black students in the desegregation program has found mixed results. Transfer students generally saw fewer academic gains in elementary school, but they advanced more quickly in high school in reading and math compared to their city counterparts. Graduation and college entrance rates were also higher among transfer students. But Black students in the city's magnet schools, including those with academic entrance requirements, fared best on most measures.
"For some children for a period of time there were substantial improvements in educational opportunity. That's not insignificant. But the political will to maintain and take advantage of the gains wasn't there," said La Pierre, the mediator of the desegregation settlement. "And as a consequence, it provided good benefits for a number of children, but not nearly enough." 
Impact on SLPS
Desegregation did not change the racial makeup of St. Louis Public Schools, which has hovered around 80% Black for decades. Enrollment in the district has fallen dramatically, from more than 100,000 students in the 1970s to around 18,000 today. Dozens of schools have been shuttered over the decades. Just 85 students from the county attend St. Louis magnet schools this year.
Overall, the district has made solid gains but continues to struggle academically. The graduation rate of 73% is about 15 percentage points below the state average. Fewer than one in five students is proficient in English or math, according to the Missouri Department of Elementary and Secondary Education.
Yeatman-Liddell Middle School, the neighborhood school Minnie Liddell wanted her son to attend, is 99% Black with essentially no students meeting state standards. The school was renamed for Craton Liddell after his death in 2002.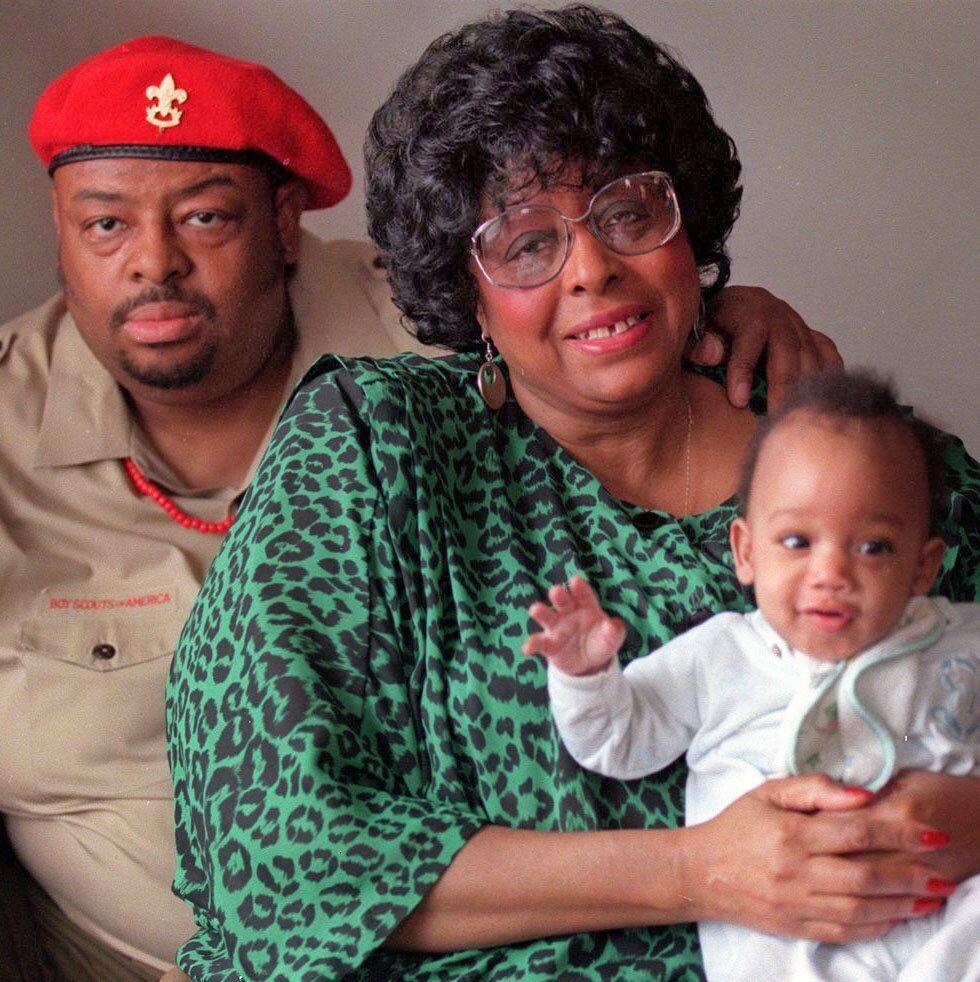 Minnie Liddell, leader of the original parents group that filed suit in 1972, is shown with her son, Craton, 37, and grandson Deric, 5 months, in March 1996. Craton Liddell was 12 when his name became the first on the list of plaintiffs in the lawsuit, thus making it Craton Liddell vs. Board of Education. His name would top thousands of filings in the long-running lawsuit, which led to both the city desegregation plan in 1983 and the city-county program three years later. Post-Dispatch file photo
Yet, there are bright spots for the city district, which regained full accreditation in 2017 and returned to an elected school board two years later. Some of the magnet schools created under court order are thriving, including Metro Academic and Classical High, the highest-performing high school in the state. But the majority of magnet schools fare no better than neighborhood ones, and the district's magnets for gifted students are disproportionately white.
An offshoot of the original desegregation lawsuit pits the school district against the charter schools that have multiplied in the city. SLPS is seeking to recoup money the state gave to charter schools from a sales tax that voters approved in 1999 to support district programs such as preschool and magnets and to help bring the desegregation case to a close.
The same law that authorized the sales tax also allowed charter schools to operate in St. Louis and Kansas City. Charter schools first opened in the city in 2000 and now enroll 12,000 students.
The transfer program contributed to misconceptions about the city and its schools, said Terry Harris, executive director of student services for Rockwood schools and a graduate of the transfer program.
"The rhetoric changed to denigrate St. Louis city and city schools," he said. "County schools became this superhero that provided kids with a better education, but I'm not really sure that it was a better education than the way that people talk about Soldan, Sumner, Vashon."
Harris graduated in 2000 from Lafayette High when desegregation was at its height, busing 2,750 Black students from the city to Rockwood schools.
"If you were to ask those students, they would tell you no doubt that the resources were much, much better but there's also this loss," he said. "There was a pride of knowing that you can walk to your school, see all these people and they will protect you. There was community there. There's something special about your neighborhood school."
Liddell's legacy
Harris said the true impact of the transfer program, once it's gone, will be a renewed conversation about prioritizing both diversity among students and equity in school funding. School districts in Missouri rely most heavily on local property taxes, which puts a greater burden on poor communities.
"If Minnie Liddell saw us, she would know that she started this conversation around what we need to do for kids from an equitable standpoint," he said. "Here's the question we have to ask ourselves now: This program is ending, and are we OK with the fact that there is such a drastic difference in terms of resources for students who reside in St. Louis city and suburban St. Louis?"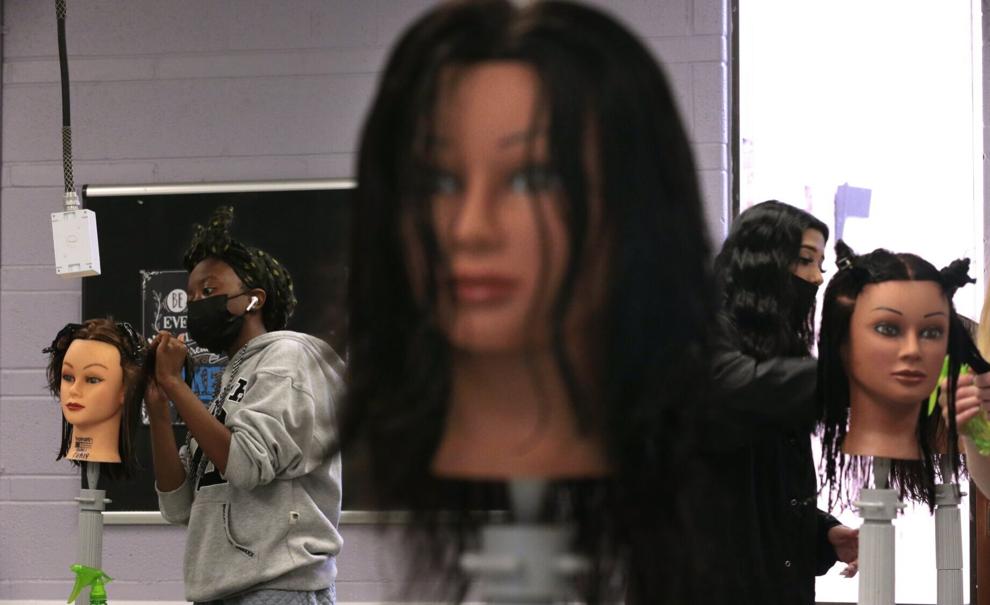 Senior Heavenly Larry, 18, cuts the hair of her mannequin alongside classmate Natalie Kern, 18, as her class practices for their board certification exam at South Technical High on Wednesday, Feb. 16, 2022. Heavenly takes her morning classes at Mehlville High before driving herself to South Tech. Photo by Robert Cohen, rcohen@post-dispatch.com


Robert Cohen


Attorney La Pierre said the long-term legacy of desegregation in St. Louis is sad and disappointing, and he blames a lack of political will at the state level.
"For the children and grandchildren of those whose constitutional rights were violated, the remedy is still not there," he said. "We got remedy for some, but not for all and as African Americans pointed out at the time, the burdens of transportation and transferring schools were borne by the victims."
Liddell, who died in 2004 at age 64, decried the state of education for Black children on the 25th anniversary of her lawsuit. Another quarter-century later, her words still hold true.
"We are asking for the same thing today, 25 years later, as we were asking in 1972: that is a quality, integrated education," Liddell told the Post-Dispatch at the time. "You owe it to the children of St. Louis to provide them some choices and a quality education. And if you don't see that happens, all of us are going to pay for it. Each and every one of us is going to pay for it."
Stay up to date on life and culture in St. Louis.