How recess helps college students be taught | Parenting
Giving kids time outside for physical and social activity helps them get ready to learn. Kent Nishimura/Los Angeles Times via Getty Images
As parents and schools seek to support students' social and emotional needs – and teach them what they need to learn – some education leaders are missing one particularly effective opportunity.
The U.S. Department of Education has offered guidance on how to help students navigate the stress and trauma of the pandemic and readjust to in-person schooling after long periods of closed schools. But as someone who studies recess in connection with child development, I couldn't help but notice recess was missing from the federal guidance and from many local efforts to support students as the pandemic continues to unfold.
The physical activity and social connection that take place at recess help children's brains work and develop properly by lowering their levels of stress, regulating their nervous system and allowing them to be more engaged once back in the classroom.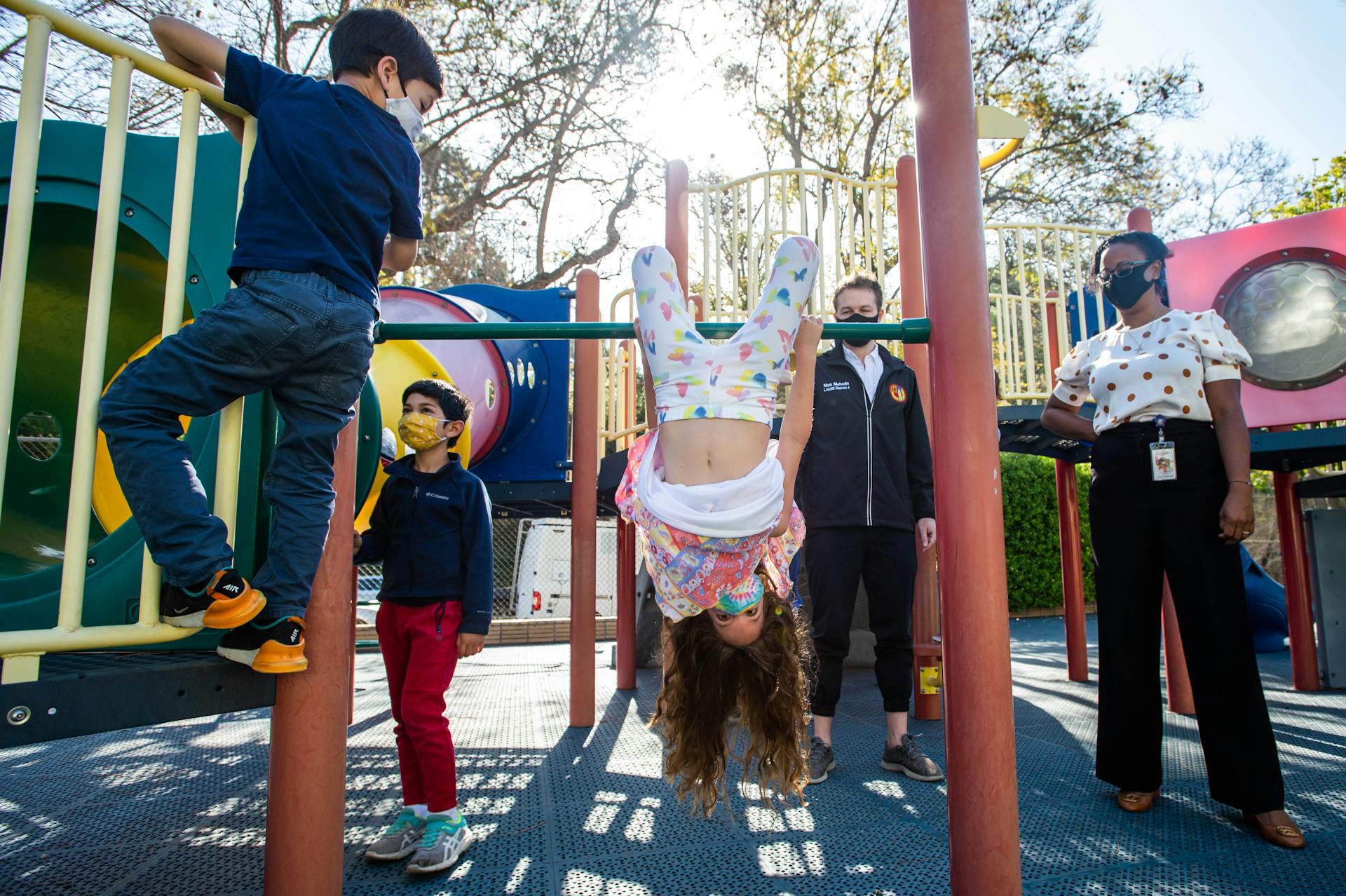 Many school playgrounds were closed during the pandemic. This one in Brentwood, Calif., reopened in May 2021. Sarah Reingewirtz, Los Angeles Daily News/SCNG, MediaNews Group/Los Angeles Daily News via Getty Images
Stress and the brain
The brain function of a person in a calm state is largely governed by the prefrontal cortex, which handles what are often called "executive functions" and the ability to regulate behavior and emotions. This makes it possible for people to follow instructions, use context clues to solve problems, pay attention and incorporate new information into existing knowledge. People with higher levels of executive function tend to perform better in school and feel better about themselves.
The brain function of a person under high levels of distress shifts to less advanced areas of the brain that handle more reactive behaviors. This disrupts those executive functions and can make the person withdrawn, distractible or hyperactive. All of those can interfere with the person's ability to learn.
This stress-related shift in brain function can also affect students' motivation. Chronic, prolonged and unpredictable stress inhibits the release of dopamine, a brain chemical that helps people feel a sense of pleasure and reward during learning. In this state, learning challenges are likely to be perceived as threats, which will continue to activate more reactive brain regions and more deeply hurt the person's ability to learn.
3 ways recess helps learning
The opportunity to spend time outdoors playing is so important that the United Nations has declared it a right of every child. My research collaborators and I have found that when children have recess in a safe environment that includes positive interactions with adults and peers, students have fewer problems with executive functions and better classroom behavior. Brain science research supports this by showing how three different aspects of recess decrease stress and improve executive function, helping children learn more successfully throughout the school day.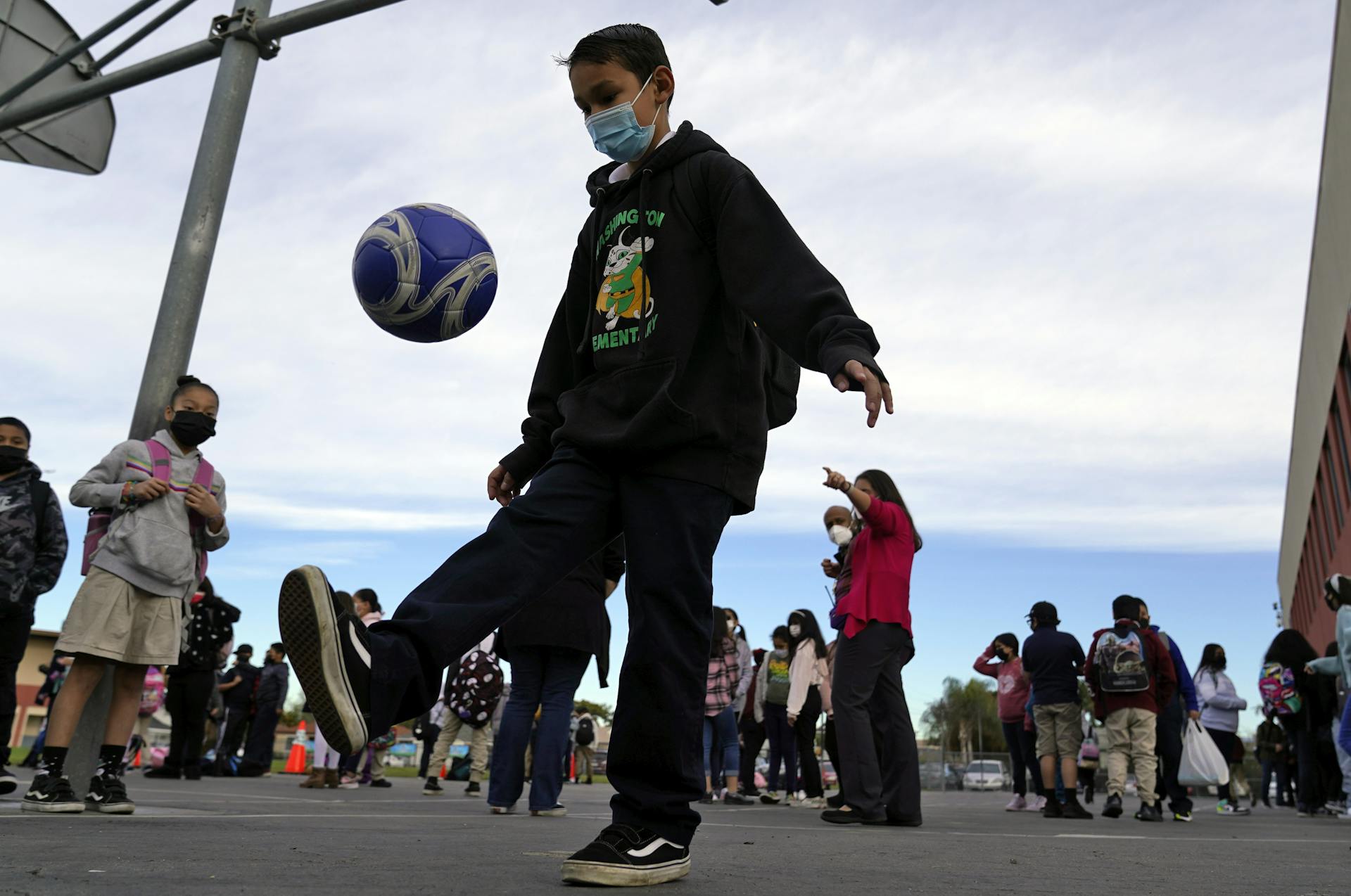 When students have time to play outside during school, their brains return to class more ready to learn. AP Photo/Marcio Jose Sanchez
My research shows kids get a large proportion of their outdoor and movement time at recess. We know that getting more physical activity at school is better for executive functions and can actually increase academic performance

My research also shows that recess is full of repetitive and patterned movements – running and chasing, swinging, playing ball games and jumping rope – which restore students' access to higher-level brain functions. This is why multiple recess opportunities each day, at regular intervals, can improve students' attention, learning and overall well-being.

Recess is a time when kids can form meaningful relationships and practice social skills – which can be critical to success in school.
Research clearly shows the benefits of recess for children. Consistent, predictable recess time – even more than once a day – helps children reduce stress, form social connections at school and get their brains more ready to learn.
___
You're smart and curious about the world. So are The Conversation's authors and editors. You can read us daily by subscribing to our newsletter.
William Massey has received funding from S.D. Bechtel Jr. Foundation; U.S. Play Coalition, Playworks.
___
40 hobbies the whole family can get into
Learn a foreign language
Updated
Feb 15, 2022

Making learning a foreign language your family's new hobby is a très bonne idée. There are a wide variety of free and affordable softwares, apps and online resources. Along with doing lessons, you can practice vocabulary and conversation skills together as well as watch shows and movies and listen to music in the language you're learning.

Nathan J Fish/Sun-News

Gardening
Updated
Feb 15, 2022

Along with their bounties of beautiful flowers or fresh herbs, at-home gardens can offer numerous physical and mental benefits to you and your family. Gardening outdoors boosts your vitamin D intake, fights stress, decreases risk of dementia and is a form of aerobic exercise. Working in a garden can also help you maintain a healthy weight, get a good night's sleep and improve your mood and self-esteem.

Nathan J Fish/Sun-News

Photography
Updated
Feb 15, 2022

Look at the world around you with new eyes by picking up photography as a hobby. You can start just by using the camera inside your smartphone. Learn about and play with lighting, angles, composition, exposure and more. Stage a family photo shoot, or simply go on a walk around your neighborhood looking for beautiful images to capture. (Monzenmachi/Getty Images/TNS)

Nathan J Fish/Sun-News

Dancing
Updated
Feb 15, 2022

Dancing is a wonderful way to exercise for people of all ages and fitness levels that doesn't require much space, experience or equipment. Along with improving heart and lung health, coordination, agility, balance and flexibility, it challenges your brain, improves memory, reduces stress and anxiety and allows for creative expression. From ballroom to country line dancing to hip-hop, there's a style of dance out there for everyone in your family.

Nathan J Fish/Sun-News

Jigsaw puzzles
Updated
Feb 15, 2022

Jigsaw puzzles are a relaxing family activity that are also good for the brain. Putting a jigsaw puzzle together has many health benefits, including reducing stress and improving memory, reaction times and problem-solving skills. The activity can also help kids improve spatial skills and social skills like collaboration and cooperation. (filadendron/Getty Images/TNS)

Nathan J Fish/Sun-News

Learn a musical instrument
Updated
Feb 15, 2022

Children, teens and adults alike can benefit from learning a musical instrument. Playing music leads to better communication skills, improved emotional release and decreased anxiety, and jamming and practicing together promotes mental health, brain function and social connection. (stockstudioX/Getty Images/TNS)

Nathan J Fish/Sun-News

Volunteering
Updated
Feb 15, 2022

Volunteering is a rewarding way to use your time, skills and resources to give back to the community and support causes you care about as a family. You can agree on an organization or activity together or let different family members choose each time you volunteer. There are countless ways to get involved, whether it's getting your hands dirty cleaning up a local park or serving remotely by organizing a food drive or reading to seniors on video call. (Thomas Barwick/Getty Images/TNS)

Nathan J Fish/Sun-News

Start a collection
Updated
Feb 15, 2022

Another hobby you can safely do from home is start a collection. Whether it's stamps or coins or dolls or trading cards, find something you and your family find fascinating and start learning as much as you can about it. Choose something that has a low entry cost to start collecting and that also has nostalgia or sentimental value to you and your loved ones. (Anna Usova/Getty Images/TNS)

Nathan J Fish/Sun-News

Investing
Updated
Feb 15, 2022

It might seem intimidating, but investing can actually be a hobby for the whole family and teach kids — and even adults — financial literacy skills. You don't need to be a high roller either. You can buy small amounts of shares in kid-approved companies like Walt Disney, McDonald's or Apple, then keep up-to-date on the markets together. To get started, many mutual fund companies, such as Fidelity and Vanguard, have tutorials and resources for young or novice investors.

Nathan J Fish/Sun-News

Hiking
Updated
Feb 15, 2022

Whether it's a peaceful stroll or an arduous trek, hiking is great for the mind and body. Hiking is one of the best ways to get exercise. According to the National Park Services, it helps improve balance and heart health, builds stronger muscles and bones, and decreases the risk of certain respiratory problems. Hiking also allows you to spend restorative time in nature, which reduces stress, calms anxiety and can lead to a lower risk of depression.

Nathan J Fish/Sun-News

Fishing
Updated
Feb 15, 2022

If you're more interested in relaxing by the water, fishing could be the perfect fit for you. Fishing requires focus and awareness which can help you take your mind off of your problems and relieve stress. You'll soak up vitamin D from being outside and still get exercise from casting, reeling and more.

Nathan J Fish/Sun-News

Camping
Updated
Feb 15, 2022

Want to hike, fish and then enjoy a crackling campfire at the end of the day? Camping might be the perfect new hobby for you and your family. Whether it's in your backyard or a beautiful local park, camping is the ultimate hobby as it combines fresh air, exercise, cooking, unplugging from technology and practicing practical skills like tying knots and starting a fire.

Nathan J Fish/Sun-News

Jewelry making
Updated
Feb 15, 2022

Jewelry making is another hobby that combines many different skills and engages hand-eye-coordination, problem-solving and creativity. You and your loved ones can start with basic beading then build to more advanced techniques like metal work, clay sculpting, glass fusing and more. (Lucy Lambriex/Getty Images/TNS)

Nathan J Fish/Sun-News

Dog training
Updated
Feb 15, 2022

Teaching your dog tricks can be a practical and fun way to engage your four-legged friends as well as your family. Obedience and tricks can provide mental stimulation for your dog as well as increase their flexibility, balance, endurance and concentration. It can also engage you and your family's problem-solving skills and creativity and boost your confidence as pet owners.

Nathan J Fish/Sun-News

Geocaching
Updated
Feb 15, 2022

Geocaching is a fun activity for families who enjoy scavenger hunts or treasure hunts and exploring outdoors. The goal is to find camouflaged containers, called geocaches, based on GPS coordinates. This hobby requires problem-solving and orienteering skills and amps up the excitement of basic walks or hikes.

Nathan J Fish/Sun-News

Yoga
Updated
Feb 15, 2022

Yoga is another form of exercise for all ages and fitness levels that can easily be done by a group at home. Yoga's focus on mind-body connection gives it benefits beyond physical fitness and flexibility. It also helps promote mindfulness, reduces stress and anxiety, improves concentration, and teaches patience and perseverance. It can be particularly beneficial for children with autism, attention deficit hyperactivity disorder (ADHD) and other special needs.

Nathan J Fish/Sun-News

Candle making
Updated
Feb 15, 2022

Lighting a candle can help you relax or help you create boundaries between spaces or activities in your day. If you enjoy candles, you can try your hand at making your own. On top of potentially being economical, making your own candles means you can be creative and customize them just the way you want.

Nathan J Fish/Sun-News

Canning
Updated
Feb 15, 2022

With people spending more time at home, many time-consuming, "old-fashioned" hobbies have come back into fashion, including canning. You and your family can make jams, jellies, sauces, pickles and more using tried-and-true techniques or modern conveniences like a pressure cooker. Canning is also a great hobby to go in tandem with growing your own fruit and vegetable garden at home.

Nathan J Fish/Sun-News

Baking
Updated
Feb 15, 2022

What's the use of homemade jam without something to serve it on? Baking breads, pastries, cakes and more is a fun, tasty activity for all ages. It can be stress-relieving, creative and a way to show thanks and appreciation to those around you if you plan on sharing your home baked treats. It's also a wonderful way to celebrate and preserve family history by passing down beloved recipes.

Nathan J Fish/Sun-News

Sewing
Updated
Feb 15, 2022

Along with knitting and crocheting, sewing has also seen a resurgence in interest for a variety of reasons, including being more sustainable and eco-friendly. This hobby can give you and your family an outlet to do something creative with your hands. The required concentration and hand-eye coordination can be relaxing and stress-relieving, while pride in the finished product can boost your mental health.

Nathan J Fish/Sun-News

Cosplay
Updated
Feb 15, 2022

If you're the type of family who has a costume trunk or enjoys going to fan conventions and events, perhaps now is the time to use your crafting or sewing skills to start cosplaying. Short for "costume play," cosplay involves dressing up as your favorite characters from movies, books, video games and more. Many cosplayers make their own costumes and accessories to bring their favorite characters to life.

Nathan J Fish/Sun-News

Start a business
Updated
Feb 15, 2022

If you and your family have been batting around the idea of starting a business or turning a hobby into a side hustle, now could be the time to make that dream a reality. Dedicate time every week to work together to develop your products, build a website, do research, take training courses and more. (svetikd/Getty Images/TNS)

Nathan J Fish/Sun-News

Origami
Updated
Feb 15, 2022

Origami, the art of paper folding, is an affordable, accessible craft that is physically and mentally engaging. It requires hand-eye coordination, spatial skills and concentration and can be a meditative and relaxing experience.

Nathan J Fish/Sun-News

Scrapbooking
Updated
Feb 15, 2022

Another hobby that's been around for generations, scrapbooking is a way to preserve and creatively display family photos and memories. The blank pages of a scrapbook can be filled with photos as well as other memorabilia like ticket stubs then decorated with a wide variety of embellishments as well as notes with details like names, dates and places.

Nathan J Fish/Sun-News

Quilting
Updated
Feb 15, 2022

Another way to stay connected to your family history or to American history is quilting. Quilts are blankets made out of three woven layers that often tell stories through their designs. Quilts can be traditional or modern using updated fabrics and patterns that can fit any style.

Nathan J Fish/Sun-News

Book club
Updated
Feb 15, 2022

Another classic hobby that can include family members in-person and remotely is a book club. Everyone reads the same book then comes together to discuss it. Family members can take turns leading the conversation and coming up with discussion questions. You can make things more interactive by doing a craft or activity or making snacks based on the setting or theme of the story.

Nathan J Fish/Sun-News

Film club
Updated
Feb 15, 2022

Take family movie night to the next level by starting a film club. Choose a slate of movies to watch from family favorites to Hollywood classics to decorated foreign films. Discuss the films afterward or each write your own review of the film. Flex your analytical skills by considering why certain scenes were impactful, what you thought of the score and more.

Nathan J Fish/Sun-News

Board games
Updated
Feb 15, 2022

Board games are a great way to pass the time with family and friends of all ages and interests. For kids, they're a great way to learn about teamwork and winning and losing gracefully and can also encourage brain development, language and organization skills and longer attention spans. For adults, they can engage the mind and promote memory function, language skills and spatial ability.

Nathan J Fish/Sun-News

Scrabble
Updated
Feb 15, 2022

Word games like Scrabble work multiple regions of the brain, including memory, can help keep your brain sharp and can help you and your family members expand your vocabulary. (Mitch Hutchinson/Shutterstock.com/TNS)

Nathan J Fish/Sun-News

Mahjong
Updated
Feb 15, 2022

Another social, brain-boosting game is Mahjong. Studies suggest the challenging Chinese tile game can improve overall brain health, help treat dementia and reduce rates of depression in older adults.

Nathan J Fish/Sun-News

Chess
Updated
Feb 15, 2022

Fans of the popular Netflix series "The Queen's Gambit" have been buying chess sets in droves, and it could also be the perfect new hobby for you and your family. This strategic, two-person game improves concentration and memory, increases intelligence, hones planning skills and helps players learn to think from another person's perspective.

Nathan J Fish/Sun-News

Blogging or vlogging
Updated
Feb 15, 2022

It's easy to get so caught up in the hustle and bustle of daily life that you lose touch with friends and family. One way to stay connected with them and flex your creative muscles is to start a family blog or vlog. Use words, pictures or videos to document your daily life while learning all about different editing tools, effects, equipment and more.

Nathan J Fish/Sun-News

Magic tricks
Updated
Feb 15, 2022

Magic is another style of performing arts that is not only entertaining but also beneficial. Learning tricks can help develop creativity and problem-solving, help you practice public speaking and presentation skills and build up confidence. It also tickles the brain of whoever is watching the trick being performed, engaging critical thinking skills and curiosity.

Nathan J Fish/Sun-News

Dungeons and Dragons
Updated
Feb 15, 2022

Dungeons and Dragons is a creative role-playing game that lets people imagine a rich fantasy world. The highly collaborative game helps hone social, spatial and problem-solving skills.

Nathan J Fish/Sun-News

Astronomy
Updated
Feb 15, 2022

If you and your family are tired of staring at screens, consider taking up astronomy and looking at the night sky instead? You can invest in a pair of binoculars or a telescope, but there is plenty to be seen with the naked eye. You can use online resources like sky maps, phone apps and more to help you and your family navigate the galaxy from your own backyard.

Nathan J Fish/Sun-News

Start an aquarium
Updated
Feb 15, 2022

You and your family can start your own captivating underwater world at home with an aquarium. An aquarium hobby is a great way to learn about and interact with marine life, from fish to snails to coral. (Tang Ming Tung/Getty Images/TNS)

Nathan J Fish/Sun-News

Interior design
Updated
Feb 15, 2022

If you and your family are spending more time at home, you might be inclined to spruce things up. And redecorating different spaces can be a collaborative family activity. You can work as a family to pick out color schemes, shop for furniture and more so everyone can take pride in the outcome. (visualspace/Getty Images/TNS)

Nathan J Fish/Sun-News

Woodworking
Updated
Feb 15, 2022

If you're in need of some new furniture, perhaps you solve your problem and learn a new hobby by making something yourself. Woodworking can be a peaceful and relaxing way to work with your hands and employ both logical and creative thinking.

Nathan J Fish/Sun-News

Soap making
Updated
Feb 15, 2022

There are plenty of hobbies that will allow you and your family to have finished final products you can enjoy and share, including soap making. Making your own soap involves chemistry and creativity, allows you to save money and is a way to avoid irritating ingredients if you have allergies or sensitivities.

Nathan J Fish/Sun-News

Genealogy
Updated
Feb 15, 2022

If you have always been curious about your family's history, perhaps it's time to take a deep dive into genealogy. With a variety of online resources as well as DNA testing services, it's never been easier to trace back your family tree. Finding your roots can help make history come alive and connect you with people with similar backgrounds.

Nathan J Fish/Sun-News